HAPPY NATIONAL DOG DAY!
National Dog Day is celebrated August 26th annually and was founded in 2004 by Pet & Family Lifestyle Expert and Animal Advocate, Colleen Paige, to bring attention to the plight of animals and encourage adoption. National Dog Day celebrates all dogs, mixed breed and pure. The mission is to help inspire the public to recognize the number of dogs that need to be rescued each year and recognizes family dogs and dogs that work selflessly each day to save lives, keep us safe and bring comfort. Dogs put their lives on the line every day..for personal protection, for law enforcement, for the disabled, for our freedom and safety by detecting bombs and drugs and pulling victims of tragedy from wreckage, now they're detecting cancer and seizures…things even humans cannot do. NDD was adopted into New York State Legislation in 2013.
MEET THE DOGS OF DELEGATE!
Learn more about our Delegate team family dogs below:
AMANDA'S FRIEND: TIA
Meet Tia. This 8-year-old beauty was abandoned on the streets of Houston before being found by her foster mom, Amanda. Through sponsorship from Good Lif3 Bully Rescue (https://www.goodlif3bullyrescue.org/), Tia has gone from street life to sweet life. She spends her days being lazy on the couch and getting belly rubs. Tia asks that everyone please adopt, don't shop if you are looking for a new furry friend!
EMILY'S FRIENDS: GEORGINA & EMMET
Gigi and Emmet are Cavalier King Charles Spaniels.  Emmet is 5 and from Maine; Gigi is 3 and from the Midwest.  Both love sleeping, snuggling, eating cookies and hanging in the office with Mom.  🙂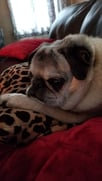 DANA'S FRIEND: TANK
Tank is my Grandog, which we have adopted from my daughter! He hates the snow, snores like crazy and loves to relax in his beanbag, spending most of his day napping! Unlike Doug the Pug, he's not an Instagram Star, but he is our little King of Third St!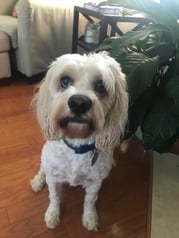 EILEEN'S FRIEND: WRIGLEY
This is Wrigley, my 11 yr old cockapoo — named after Wrigley Field. He's a constant companion and by my side all day. However, he's a lazy coworker and always sleeps on the job!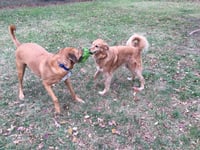 BETH'S FRIENDS: ANNIE & OLLIE
These are our pups, Annie and Ollie.  They were both rescued individually from South Carolina shelters.  Annie is a 7-year-old mixed breed who is about 60 lbs. She looks like a Golden Retriever but her doggie DNA test shows her to be a big mix, mostly Doberman, Boxer, and Rottweiler believe it or not!    Her "brother" Ollie is about 3 years old and a 100 lb. big goofy hound dog. Ollie is half American Foxhound and the other half is Briard and Golden Retriever.   They are totally bonded and love that I am essentially a stay at home dog mom 🙂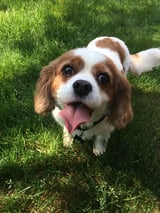 JEN'S FRIEND: HUDSON
Meet Hudson Sacco! He is super sweet and loves to snuggle. He loves belly scratches, any food dropped on the floor, and sleeping is under my desk all day long!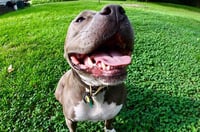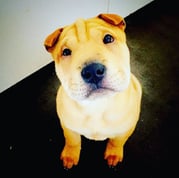 REBECCA'S FRIEND'S: NAHLA & ELSA
Meet Nahla, our sassy little Shar-Pei pup. She melts our hearts with her sweet face and inquisitive eyes!
Meet Elsa, our beautiful blue Pitt Bull! She is the happiest dog in the world when she's outside playing fetch or going for a run.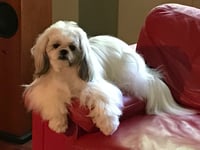 ANNE-MARIE'S FRIEND: PIKACHU
Pikachu is my constant companion. He snoozes under my office chair and will jump up to follow me wherever I go. That could be annoying, but it's not. If he's not right beside me, I'll go looking for him.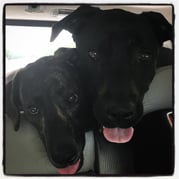 ERIN C's FRIENDS: DUDE & BOOMER
Dude (left) and Boomer (right). Best buds and total maniacs!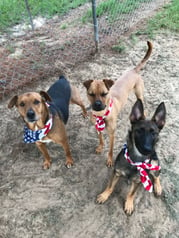 KAYLEE'S FRIENDS:  RANGER, DAKOTA & MALINOIS
Ranger (left) is an 8-year-old Rottweiler/Airedale Terrier mix. He's a rescue and also a cancer survivor! Dakota (middle) is a 1-year-old Boxer/Whippet mix. She is full of energy and trouble! Maverick (right) is a 5-month-old Belgian Malinois/German Shepherd mix. He's our newest addition but has already become a great home protection dog (especially since his bloodline has lots of police K9s)
CHRIS'S FRIEND:  NALA
I got Nala as a puppy almost 10 years ago, when I was a peace corps volunteer in Ghana. She's been my sidekick ever since! Now that I work from home she keeps me company all day.